Tails on Trails
Dog Walking

Services
I provide a unique, individual (only your dogs), local (no stressful van travel) but above all friendly Dog Walking and Dog Drop In Service which is also flexible to your needs!
I cover the Midlothian and South Edinburgh areas. In Midlothian I include places like Bonnyrigg & Lasswade, Dalkeith, Loanhead, Newbattle, Gorebridge, Bilston, Roslin and Rosewell.
In South Edinburgh I cover places like Liberton, Gracemount, Danderhall and Burdiehouse.
I try to be as flexible as possible so please contact me if you are outwidth these areas or have specific requirements and I will do my best to accommodate you! You can also click on the prices page to see my list of prices.
I provide the following services outlined below:
Dog Walking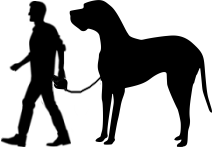 I provide a uniquely local and individual walk meaning no stressful van/car travel or unfamiliar dogs walking alongside.
Additionally, I strive to offer a friendly, loving walk giving each dog love, attention and play. This is why I limit the number of dogs on my walks. Key details are as follows:
Pick up and drop off from your home
1 Hour or 2 Hour Walks
Feeding your Dog before or after the walk as needed
Fun, off lead walks in appropriate areas if required
Up to 2 Dogs at a time
An individual walk (no other Dogs apart from yours)
A local walk (no stressful van travel)
A fully insured walk
Knowledge of different breeds
Dog Drop In
I offer a flexible and friendly Dog Drop where I visit your home to spend time with you pets, love them, feed them, let them out if needed and anything else your pets require! I provide:
A reliable Dog Drop In Service, at a time that suits you
1 Hour of time with your Dog(s) (and other pets if you have any!)
Feeding/watering
Time outside for the toilet/exercise
A walk if required (2 Dogs at a time)
Insurance cover
Hugs and cuddles for all pets!
Tails On Trails Dog Walking, 5 Gordon Avenue, Bonnyrigg, Midlothian, Scotland, EH19 2PG
Website designed and developed by Greig Bowden